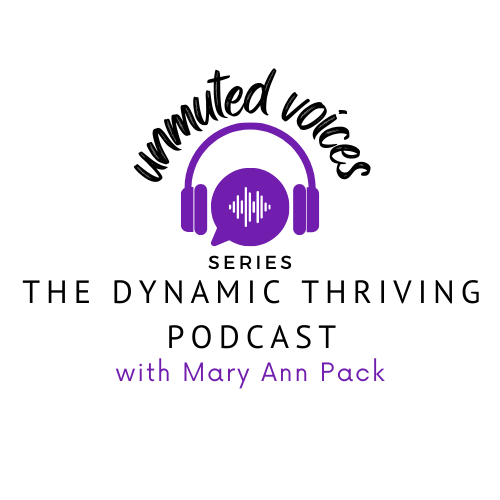 The Dynamic Thriving Podcast presents season 2 with the Unmuted Voices series! Join us for interviews with transformational leaders who used to have their voices silenced, maybe for years, and now have unmuted their voices to share love and joy with the world! This is your host, Mary Ann Pack, spiritual medium, author/publisher, and joy advocate guiding you into all things life transformational!!
April Goff Brown has an amazing story to tell about unmuting her voice. Her story may resonate with your heart and soul. It may offer healing in your life! Indoctrination into limiting beliefs of any kind can silence our voices. Whether you were raised in a controlling religion, family, society, or culture, you may have been indoctrinated with toxic beliefs.
Joyfully, April found her voice and is sharing her message of hope around the world!
You can find April at https://aprilbjewelry.com. Be sure to take her crystal quiz and find your perfect crystal for today!
Our co-authored book, Sacred Crystals - Book Two of the We Are Joy Series launches today on May 16th!! You'll find information about the We Are Joy Book Series at https://wearejoybooks.com.
Please like and share this podcast as it helps our world spread more joy around the globe! Also, visit our website https://maryannpack.com for all of our services AND https://wearejoybooks.com for our newest book in the We Are Joy! series.
To your joyful unmuted voice,
Spiritual Medium, Author/Publisher, & Joy Advocate!
Envision Greatness Press at https://wearejoybooks.com
dynamicthriving@gmail.com