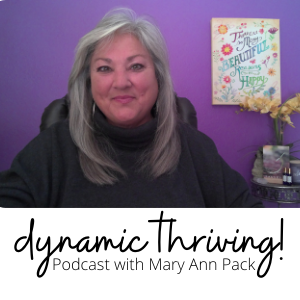 In this episode of The Dynamic Thriving Podcast, our guest is Anne Garland, Chief Event Officer of AnneGarlandEnterprises.com. Our topic is Secrets of a Serial Networker which is the title of her newest book that launches in October or November 2021. Listen to Anne share some of her tips and nerdy tricks about how to network with purpose and ease!! 
Sign up for her email list to be the first to receive notification of her book launch! You'll find her website at https://AnneGarlandEnterprises.com. Her book is full of great advice and ways to be the best networker you can be whether you are an extrovert or introvert!! This is networking made easy and fun with great stories and humor thrown in.
Please visit our website https://maryannpack.com for all of our services and offerings of:
ASK THE MANY - receive answers to your questions from my spirit guides, The Many, or receive a personal reading in one private session!
DISCOVER MY JOY AND WELL-BEING SESSION - A FREE private deep-dive session to discover where you are, where you want to be, and who you need to become to get you there.
DYNAMIC THRIVING COACHING CONCIERGE CONSULTATION!! If you are looking for a qualified, vetted transformational coach and you don't want to waste your precious time, energy, and money, this consultation will help you find expert coaches in all areas of life and business in the directory. https://maryannpack.com/concierge-consulting
And, so much more!
Ladies, please join us in the Ladies' Power Lunch group on Facebook!! This podcast is in collaboration with https://LadiesPowerLunch.com where we have one rule and that is to intentionally support each other!! 
To your dynamic thriving,
Mary Ann Pack
YOUR Spiritual Medium, Oracle for "The Many" & Joy Advocate!
Let's connect:
Facebook - https://facebook.com/maryannpackcoaching
Linked-In - https://linkedin.com/in/maryannpack
Instagram - https://instagram.com/maryann.pack
Email: dynamicthriving@gmail.com